Sustainable & Functional Textiles are everywhere and are becoming increasingly durable, smarter and more functional. The textile industry is able to innovate thanks to new technology, smart materials and durable processes.
Society faces complex issues. Smart and functional materials can help address these issues. The digitisation of production networks is making it possible to rapidly introduce innovations on the market. The research group Sustainable & Functional Textiles (SFT) develops innovative concepts and products by way of practice-oriented research in collaboration with companies, researchers and students.
The most important research areas of the SFT research group are
Sustainable textile
The research program Sustainable Textiles examines the opportunities and challenges for a systemic transition to a circular textile industry. This means closing a total value chain from the collection of used textile "waste", through sorting, fiber production and spinning of regenerated fiber to weaving of new products that are also designed for recyclability.
The focus is on this design process (design for reuse) and on textile recycling with innovative technologies based on mechanical and chemical processes. SaXcell® (Saxion and cellulose) is an example of an innovative chemical recycling process, developed by the SFT research group and now an independent company. The SaXcell process converts cotton waste textiles into new high-quality textile fibers.
Other important research areas within the research program Sustainable Textiles are local production of textiles, biomaterials and a transparent value chain (traceability).
Projects
Responsive smart textiles
Responsive smart textiles are textiles that respond to changes in the environment. Think of the integration of electronics in textiles, which makes it possible to measure body functions such as heart rate and temperature. The integration of sensors and actuators in textiles enables us to design an exoskeleton of textiles that can provide support in walking. Research is also being done into clothing or tents with integrated flexible solar cells to generate sustainable and off-grid energy. Below, you can read more about the current projects within the research track "responsive smart textiles"
Projects
Know more?
Today textile is much more than just producing fabrics. You will discover this for yourself in our unique laboratory. For example, we test how quickly a fabric starts to pill. And we investigate the materials from which a fabric is made.
Textile lab
Collaboration with research group Sustainable & Functional Textiles
Thanks to multidisciplinary collaboration between business, research groups and education, innovative concepts and products are being developed. Collaboration takes place at the regional, national and international level.
The research group is connected to the following programmes:
News from this research group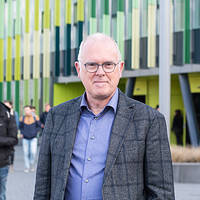 Dr. ing. Gerrit Bouwhuis
Associate lector
Pramod Agrawal
Docent-onderzoeker
Eliza Bottenberg
Docent-onderzoeker
Laura Erkens
Docent-onderzoeker
Henk Gooijer
Docent-onderzoeker
Theresia Grevinga
Docent-onderzoeker
Richard Groeneveld
Docent-onderzoeker
Sven Kamphuis
Docent-onderzoeker
Carlos Kuhlmann
Docent-onderzoeker
Anton Luiken
Docent-onderzoeker
Jens Oelerich
Docent-onderzoeker
Harry Sanderink
Docent-onderzoeker
Marijke Timmermans
Docent/Onderzoeker Ethiek & Technologie
MBA Véronique de Vries - Horvath
Financial Project Support
Lia Schoppert-van Dijk
Projectondersteuner
Hellen van Rees
Researcher Sustainable & Functional Textiles
Visiting adress
Saxion, Sustainable & Functional Textiles
Van Galenstraat 19
7511 JL Enschede
Postal adres
Saxion
Academie ACT / Sustainable & Functional Textiles
PO Box 70000
7500 KB Enschede
Events of this reseachgroup