Welcome to the second day of the Week of the International Student! This years edition is happening in a world where travel can no longer be taken for granted. Discovering new cultures and gaining international experience have become more difficult. But thanks to digital technology, we can keep in touch and continue to collaborate and learn from one another. Learn more below what's on the planning for today!
All about Dutchies
When moving to the Netherlands, you will experience the Dutch culture. And just like every culture, the Dutch culture has some aspects that might be surprising or hard to get adjusted to as an international student. We asked our international students what surprised them most, when living and studying in the Netherlands.
''For me, the hardest thing to get adjusted to (and still is) is the punctuality of the Dutch people and students. Coming from a country where we like to have a flexible approach when it comes to time, the Dutch people not only are always on time but they also like to plan things ahead. Like, really ahead: you may have to plan meetings whether it is for a project or with Dutch friends up to four weeks ahead.'' - Alessia, from Italy.
''I was unpleasantly surprised by the Dutch directness. It's like they all try to avoid misunderstandings by being so transparent and clear. Being polite even might raise suspicion that you want a favor from the other person.'' - Marcel, from Portugal.
''Bikes. They are everywhere. I once read that there are more bike than people in the Netherlands. At first, I didn't believe it. But living in the Netherlands has changed by belief: you ain't Dutch if you don't have a bike.'' - Kisa from Russia.
We would love to hear your experience regarding the Dutch culture as an international student! Share your experience with us on social media.
Get sporty!
Make sure to stay active and move your body during the Week of The International Student by an online sport class. Put your sport gear on, turn on the music and fill your water bottle to get ready for a total body workout.
Become an international masterchef
Travel around the world without leaving the kitchen with international recipes created for you by our international students. Yanislav from Bulgaria shares his favorite Bulgarian recipe with you today!
Shopska salad
Even though, this salad is named after a region called Shopluk, in Bulgaria, this salad was invented around 1955 in a Black Sea resort near Varna. Due to the fact that the area of Shopluk is divided among Bulgaria, Serbia and North Macedonia, chefs in North Macedonia and Serbia began later to contest the Bulgarian origin of the salad.
Ingredients
2 tomatoes
1 large cucumber
1 baked red pepper
1 yellow onion
2 tablespoons fresh parsley
4 soup spoons sunflower oil
1 soup spoons cup red wine vinegar
Salt (to taste)
50 grams Bulgarian sirene cheese (or feta cheese)
1 hot pepper (optional)
Sidenote
You will have the most tasty salad with the vegetables from the garden in the summer especially. You can replace the typical Bulgarian cheese with feta cheese. If you like hot papers, you can add one to the salad.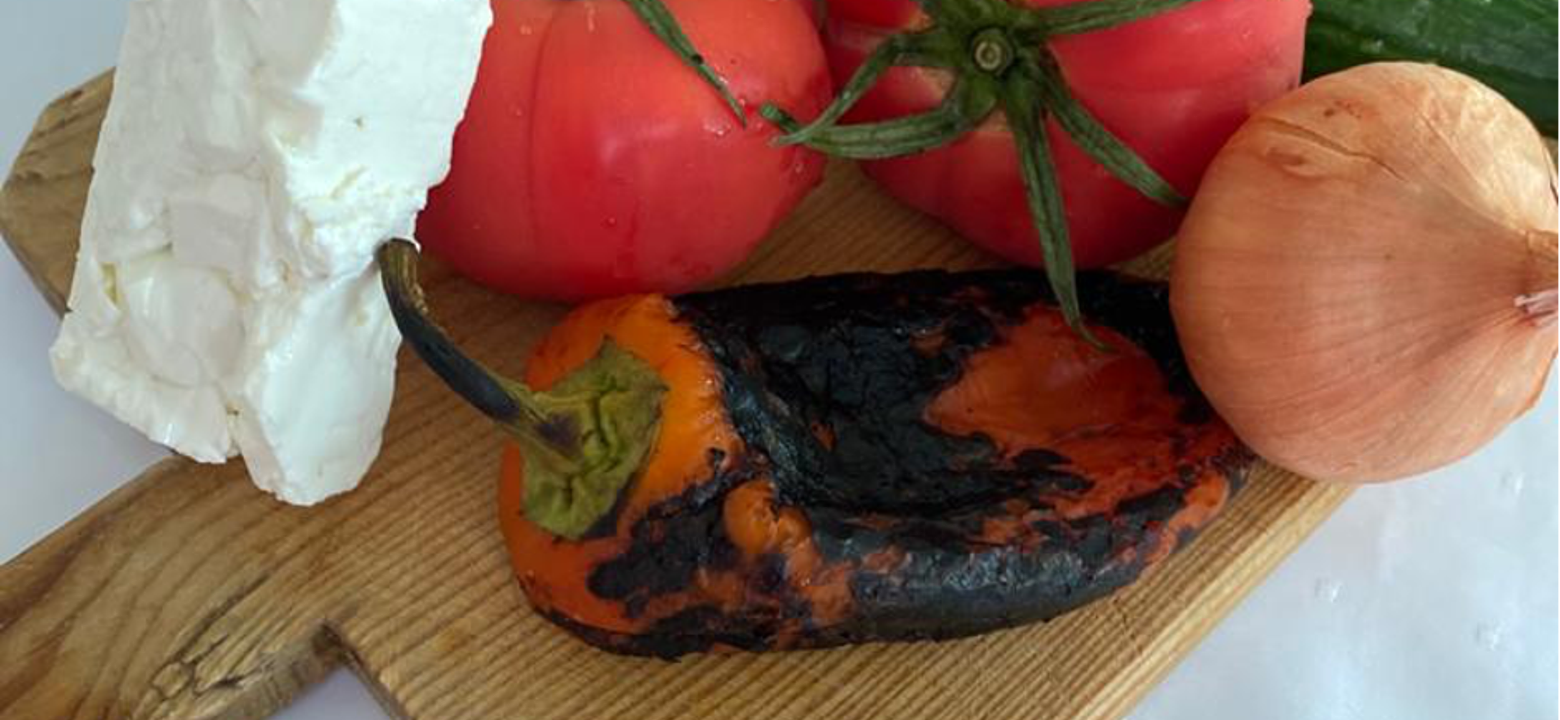 Instructions
1. Chop all tomatoes (we recommend leaving the pieces bigger), cucumbers and the pepper and put in a bowl.
2. Add the finely chopped onions and parsley.
3. Sprinkle with the oil and vinegar and mix it all together.
4. Grate the cheese on top of the salad.
5. Priyaten apetit! (in Bulgarian: Enjoy your meal!)