The best ideas to improve your business may come from students that would love to get to know you and your business better. Employees ultimately determine the success of your organization and our international HRM students are passionate about coming up with new ideas to improve your business processes, HRM policies and practices. Advanced third-year students following an International HRM programme at Saxion are keen to start working in the HRM practical labs to find the right solution for your company.
Would you and your business like to establish a valuable co-operation with bright young students? Come join our international HRM practical labs and work with students, researchers and teachers on innovative business and HR practices.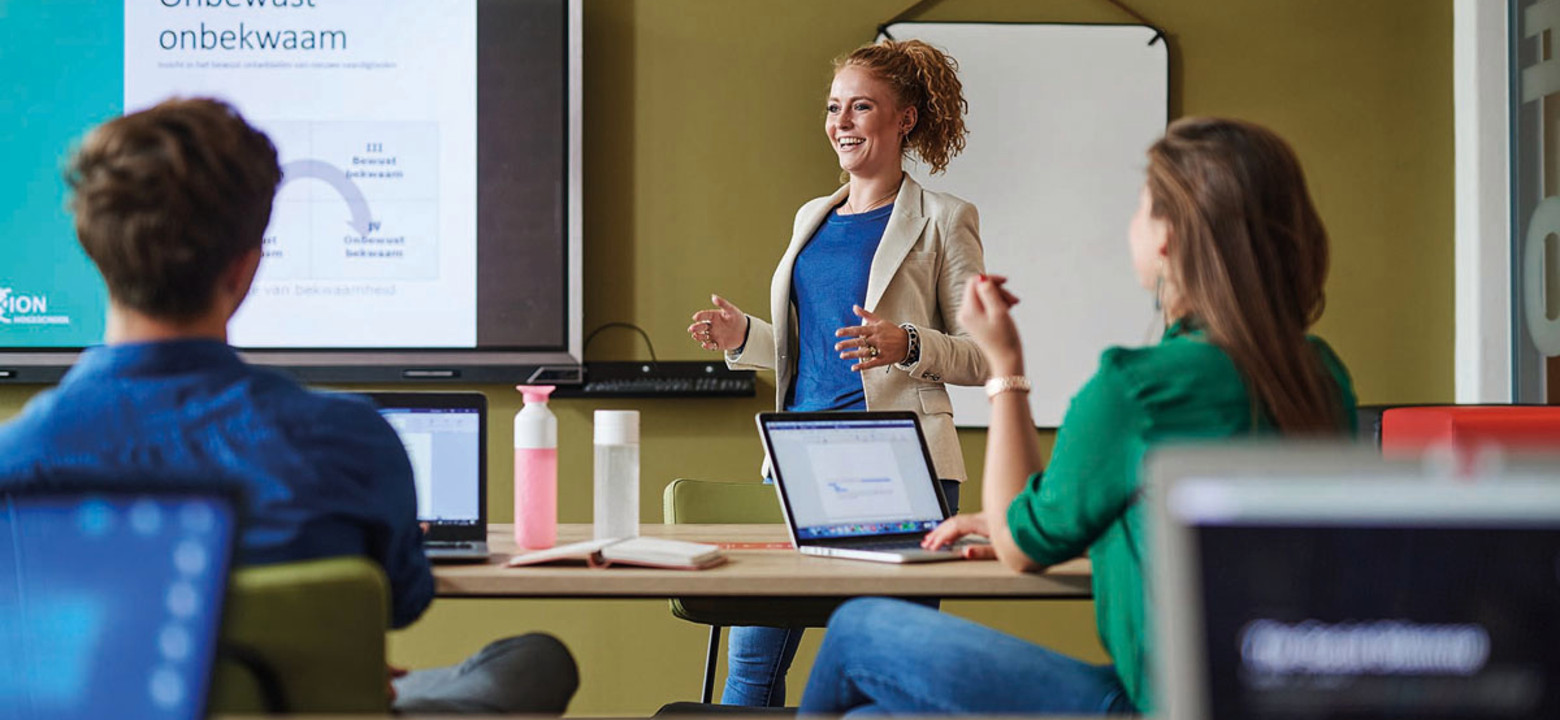 The best of both worlds!
In the international HRM practical labs groups of 5 students are acting as consultants for businesses in internationally oriented organisations. The Lab is an experimental environment where nothing is compulsory and anything is possible, with one exception: the time schedule. The time duration is limited to 10 or 20 weeks depending on the chosen lab. Together with you, students create inventive business solutions for current challenges in your organization, ranging from HRM solutions and workshops to recommendations, scans and more. A clear and straightforward problem that would benefit from a practical solution that can be put into action, such as a targeted training, realistic advice or an inspiring workshop.
Your investment to help education become more practice-oriented will result in unexpected ideas and interesting tools that inspire you to improve your business processes, HRM policies and practices. Based on theory and tailored to your practice. The best of both worlds!
Experience the benefits:
Student consultants, backed up by professional teachers, are an economical way to obtain unbiased, inventive and actionable advice to improve your organization's effectiveness.
Students have the time to talk to or survey employees, analyse data and craft new ideas.
No funds needed to hire consultants, only your time for input and feedback varying from 2 - 4 times throughout the start, mid and end of the project.
Use the experience to find entry-level employees for your organization.
Main topic of the Strategic HRM Lab is HR-policy and its' adaptability to internal and external developments. Depending on the type of assignment, there are two phases and types of products that are worked on: an organizational analysis and a concrete professional product (intervention/ workshop/ policy note). Topics of this Lab are:
An analysis and recommendation for the effective set-up of your HR practices and its horizontal/vertical alignment and the current or future role of HR professionals within your organization.
Preparation of employees for future developments, such as changes in the work due to technology or new business processes and the consequences for quantity and quality of the required employees.
Global HRM issues such as recruiting or onboarding international employees, global mobility, and implementing a global HRM system.
Human Resource Management has changed from an operational towards a more strategic discipline. Therefore, a data-driven approach of HR has become relevant. HR analytics enables you to switch from intuitive-based HR decisions to a data-driven decision-making. Topics of this Lab are:
An analysis of the current state and ambition relating to HR Analytics within your organization, including specific advice on how to tackle problems that may arise.
Does your organization have the right competencies (skills, knowledge and attitude) to perform HR Analytics? Our practical advice will help you fill those skill gaps.
Are you not making the most of your current HR data? We'll help you take the first step in HR data analysis.
What data does your organization actually want to collect? And why? Together we will take the first step towards creating a dashboard!
The most important question for organizations is how they can adapt to this fast changing society. Which processes need to be adapted? Which culture and structure fit well? How can we make people collaborate more in teams? How can HR contribute to the development of an agile organization? Topics of this Lab are:
Team processes. Our students will provide you with insight into the concept of (self-managing) teams and the process required to create them or improve team collaboration and communication.
Business processes. Our students will analyze a business process and provide you with insight into efficiency principles, such as Lean Management or the impact of a technological change on a process.
Organizational culture. For internationally focused organizations, students will explore the benefits and pitfalls of creating a culture of adaptability, diversity and inclusion.
Main topic of this lab is the management style and behaviour of first-line managers in organizations. Students' research is linked to practical advice. This lab examines how leadership effectiveness can be improved. Our students will analyze the extent to which your first-line managers are effective 'people managers'.
In the Leadership Lab, students will share with you the latest theoretical insights in leadership and combine this with their research data in your organization. In their research report they will provide you with an advice.