Education
Embracing sustainability: An Inspiring Bootcamp Experience in Hungary
Mette, a Dutch student studying International Hotel Management, shares her experience participating in a bootcamp in Hungary focused on the future of food and beverage. This interview covers valuable insights gained from this unique opportunity, the challenges faced and overcome, and the significance of embracing cultural diversity while working on real-world projects.
Thank you for joining today. Could you please introduce yourself, where you come from, and what you're studying?
Hi, I'm Mette. I'm from the Netherlands, and I'm studying in the International Hotel Management programme in Appledorn at Saxion.
How did you find out about the boot camp?
I found out about it because of Liesl, who was also asked to participate. Mark, a lecturer at Saxion, approached her and asked if she was interested. Then Mark asked if she knew someone else who would also be interested, and she mentioned my name. So I also got the invitation, and I was very interested, so I signed up.
What attracted you to the boot camp?
Mostly getting to know other people from different countries with different cultures. I'm already studying in an international course, but due to COVID, I didn't really get to know a lot of other cultures. So this seemed like a perfect opportunity to broaden my network. Also, the part about F&B (Food and Beverage) was really intriguing to me because I really like that aspect and wanted to know more about it. So I think those three were my biggest reasons to go there.
Please describe the boot camp theme and the project you worked on.
The theme was the future of F&B. We were assigned sustainability projects by Jules from the company Supp.li. The question was: How can we convince consumers to buy more sustainable products and gain more knowledge about them? We worked on this problem in a team of six, and throughout the week, we started from scratch, understanding the problem, seeking solutions, and finally developing a prototype and a pitch to present. That was the main focus of the entire week.
What kind of challenges did you face and overcome with this group and the project?
In the beginning, we had some team-work issues or challenges because we weren't used to working together. Some team members were stressed, but we spoke about it and addressed the issues. As we progressed, the teamwork improved, and everyone took on their own tasks. Another challenge was that initially, we were unsure about what was expected of us and how to approach the problem. But we had mentors like Elaine from Austria who helped us stay on the right track and provided guidance whenever we needed it. So, the biggest challenge was probably asking for help and seeking guidance, but it turned out to be a crucial step in overcoming obstacles.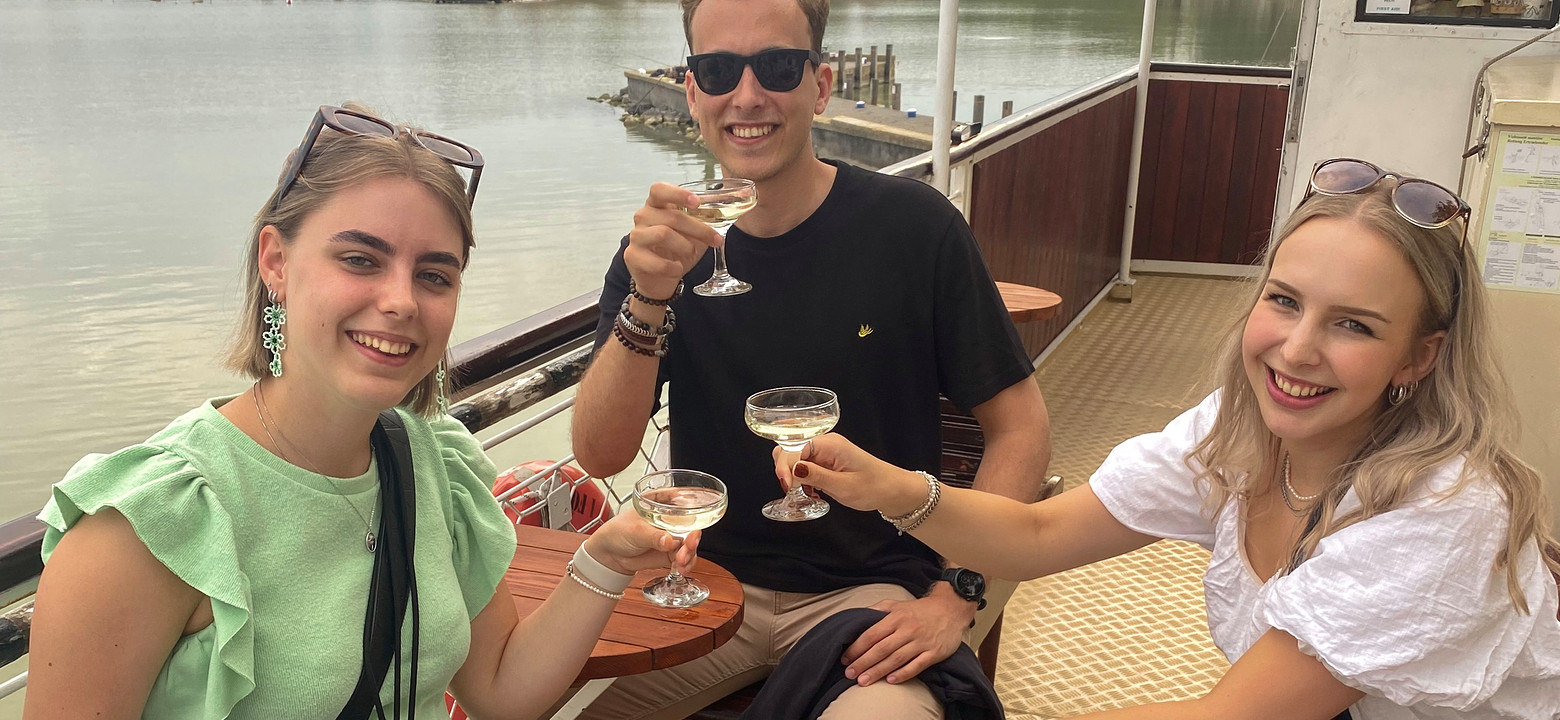 What was the solution your team came up with?
We came up with several ideas and solutions. The main one was to create a diagram sticker on the product's packaging. This diagram would assess the product's sustainability based on three criteria: economical, ecological, and social. Consumers could easily see if a product was sustainable by looking at the sticker. We also included a QR code on the package that would lead to a website with more information about the diagram, the products, their sustainability, and how they were produced. Businesses could also partner with us and offer their sustainable products on the website. So, everything led back to the website, where consumers could make more conscious decisions about their sustainable purchases.
Oh! That's sounds really nice. Did you enjoy working on that project?
Yes, I really enjoyed working on it. Especially because there were people from different backgrounds in my team, which was really nice because they all brought something new. Some team members had knowledge that I was not aware of, and I learned a lot from them. It was a new experience because we had to do so much in a very short time. We had to identify each team member's strengths and utilize them to work fast and come up with a great solution. Our stakeholder was also very happy with the results and wants us to continue working on the plan and potentially turn it into a business model.
Wow, that's great! Would you then recommend other students participate in future boot camps?
Absolutely. I consider it a once-in-a-lifetime opportunity. You learn a lot, get to meet people from different cultures, and make new friends. Working on a real problem with a real client who is invested in the solution is a unique experience. It's not something you often get to do during your regular studies. Additionally, you have the chance to bond with your team and participate in various activities that challenge you both physically and mentally. So, I highly recommend it to other students.
What would be your biggest piece of advice for students interested in trying something like this?
Don't be afraid to speak English or make mistakes. The entire week is conducted in English, and it can be challenging at times. But don't let the fear of making mistakes hold you back. Everyone there is in the same boat, and nobody is perfect in their English. Also, don't close yourself off to just the person you know from your own country or group. Make an effort to talk to other people, get to know them, and make new friends. Opening up to new experiences and cultures is key.